2020 Update
The last games of the season will be played this Saturday, 26 September.
DRAW: As we move into Level 1 tonight, all divisions will be playing this Saturday. The draw is now available.
FANCY DRESS: With it being the last day of Mini and after such an unpredictable season – let's make it a bit more fun for the kids and have a dress-up day!
SPECTATORS: Spectators are welcome. We do encourage you to continue to use the Covid sign in on entry.
CAFÉ/BBQ: The café will be open and the fundraising BBQ will be running.
PARKING: Remember it will be busier than it has been in the past few weeks, so take care in the carpark and allow extra time. Suggest parking down the road or in Innes Common and walking a few minutes.
END OF SEASON SURVEY: Click here to complete our end of year survey. Please pass this on to team parents to complete.
Thanks for all your support and patience this season. It has been a challenging one and we appreciate how everyone has abided by all the restrictions to allow the kids to play hockey this year.
---
Mini Hockey 2020 (Revised Season):
Umpire Workshop: Tuesday 16 June, 6.30pm
Mini Schools Meeting: Wednesday 17th June, 6.30pm @ GHC
Team Registrations Due:
19th June if wishing to participate in Term 2
1st July if only participating in Term 3
Coaching: 30 minutes of on-turf coach development with your team. This will be provided by WHA to all coaches entered in the optional 2 weeks in Term 2. Followed by 2x 13min games.
Season Dates:
Term 2: Two optional weeks are being offered on 27 June & 4 July. This will be run by WHA to all teams entered in these optional 2 weeks in Term 2. Followed by 2x 13min games.
Term 3: 10 weeks (25 July – 26 September)
No play: 11th and 18th July (last two weekends of school holidays)
RAINBOW: Saturday 4th July, 9.00am for approx 45mins, there will be a training session for Coaches of Rainbow teams. Please meet on Turf 1, HA. Bring hockey stick and a note book should you wish to take notes.
NOTE: If you have entered teams in the original 2020 season process, you will need to re-enter teams based on season changes.
Rules:

2020 Quarter field rules – Mini Kiwisticks Development

2020 Half field rules – Mini Kiwisticks

2020 JD Competition Rules
Mini Format:
​​​​​​​Mini Hockey is a Saturday morning winter competition for Primary school children in Years 1-6.
In the Mini programme Years 3-6 teams play 6-a-side hockey, with the field size changing to reflect the level of hockey experience and the age of the hockey players.
There are different divisions for Mini Hockey and may change depending on entries. Exact format will be defined once entries are known.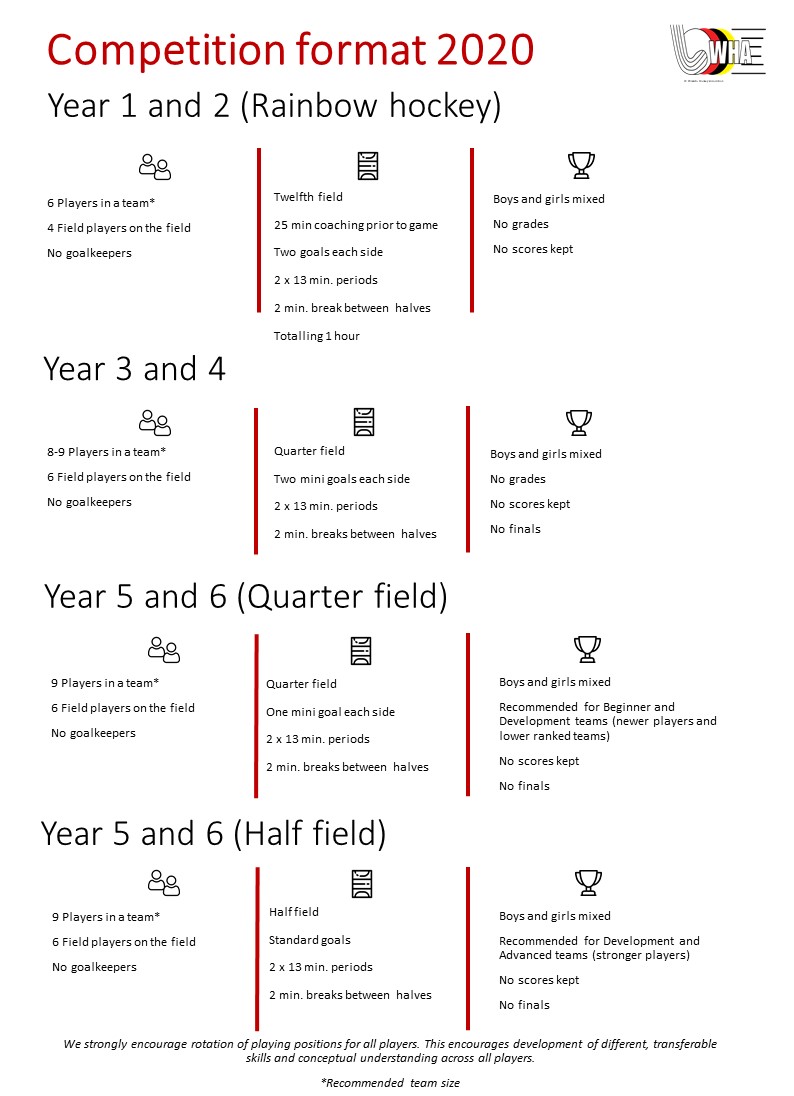 Fees:
Year 1/2: Rainbow $165
Year 3/4 and 5/6 quarter field: $270
Year 5/6 half field: $345
Venues:
Mini hockey is played at either the Gallagher Hockey Centre or St Pauls Collegiate.
GHC: Parking can be an issue here so look for alternatives, around lake domain and even at the Train Station both within a 5 minute walk.
Exiting GHC (Mary St ONLY) can be a struggle at the best of times. If traffic is busy PLEASE don't sit at the Mary St intersection and try to turn right , go left cross the railroad and look to use a side street to change direction.
St Pauls: Carparking is available near the turf if the carpark is full park on the road outside the school DO NOT park on grassed areas.
And PLEASE make sure all rubbish (empty drink bottles especially) are put in the rubbish!
Results:
NOTE this process will changing in 2020… Please attend the schools meeting for more information about our new Hockio system
Rules:
Besides the rules for the grades and the guidelines, Waikato Hockey has a rule that ONLY players and the Coach/Manager are to be on the field ALL other supporters must be behind the Field Fences.
Umpires:
Each quarter field team is to provide an umpire for his/her own game who may also be the coach.
Kiwi Sticks teams are to provide an umpire for their own game – this must NOT be the coach. This development stage is where coaching and umpiring needs to be clearly separate for players and spectators. The Junior Hockey committee will monitor adherence to this.